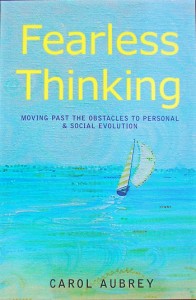 "Fearless Thinking: Moving Past the Obstacles to Personal & Social Evolution"
by Carol Aubrey, published February, 2009
"Carol Aubrey takes her place in the pantheon of inspired guides in our transition toward full realization of our potential. She is a brilliant and worthy guide, and I recommend FEARLESS THINKING as a vital piece of learning conscious self-evolution."  Barbara Marx Hubbard
FROM THE BACK COVER:
It is transition time on planet Earth, and we are the transition team. Our job is nothing less than to break from millenniums of fear-based thinking and the human imperative to dominate and control, and usher in a new era of human potential. The domination/subservient paradigm under which we have toiled has kept us in a hamster wheel of shame, blame, and guilt, with the perpetual need to judge, condemn and punish ourselves and each other. It is time to break free, and Fearless Thinking shows us how.
Sparking our imaginative and co-creative powers by providing new languaging and a new outlook, Carol Aubrey invites us to discern the remarkable and challenging gameboard of life and to view ourselves as powerful, purposeful and intentional players on this gameboard.
Purchase Fearless Thinking on amazon.com